About The Country
Universities
If you are student from EU or Denmark
Tuition fees have to pay as a first instalment
Documents needed for the application for admission
Career and further studies
Visa requirements
Practical matters like Accomodation and part time job
Our services charges
After visa and formalities
About The Country
Sweden's position as one of the world's most highly developed post-industrial societies looks fundamentally secure.
Unemployment is low and the economy strong. Public-private partnership is at the core of "the Swedish model", which was developed by the Social Democrats, who have governed for most of the time since the 1920s.
This mixed economy traditionally featured centralised wage negotiations and a heavily tax-subsidised social security network. The Swedes still enjoy an advanced welfare system, and their standard of living and life expectancy are among the highest in the world.
Relative to its population size, Sweden has taken in far more migrants than any other EU country since the beginning of the migration crisis in 2015. This has put pressure on public services, and prompted a surge in support for the far-right Sweden Democrats party.
Kingdom of Sweden
Capital: Stockholm
Population 9.5 million

Area 449,964 sq km (173,732 sq miles)

Major language Swedish

Major religion Christianity

Life expectancy 80 years (men), 84 years (women)

Currency krona
UN, World Bank
Universities
University List:
https://lnu.se/ Linnaeus University
https://www.hh.se/english.5_en.html Halmstad University
http://www.his.se/en/ University of Skövde
http://www.hkr.se/en/ Kristianstad University Sweden
http://www.hb.se/en/ University of Borås
https://www.mdh.se/ Malardalen University
https://www.hv.se/en/ University West
https://www.lu.se/ Lund University
If you are student from EU or Denmark
Tuition fees have to pay as a first instalment
 For Business studies  you have to  pay per semester 4500 Euro to 6000 Euro.
For science and engineering per semester 5500 euro to 7000 Euro. 
Documents needed for the application for admission
Exactly what you need to submit, and how you need to submit various documents, depends on a number of factors including:
the specific entry requirements a university may have for a course or programme
additional document requirements a course/programme may have, such as essays, motivation letters, etc.
the country where you studied
What are the basics?
All applicants need to document their previous studies. This means you need to provide documentation of your completed upper secondary studies including transcripts with courses and grades. If you've completed university studies, you should also document your degree and provide transcripts.
You also need to show you meet the English requirement. Some applicants meet the requirement based on previous studies, while others demonstrate their English ability by submitting English test results.
Can I just submit my university documents?
Even if you've completed university studies, you must submit your upper secondary documents if you're applying to bachelor's level courses and programmes.
Your upper secondary studies are used to determine if you meet the general and specific entry requirements, not your university studies.
In order to compete for places, you must have a merit rating. This rating is based mainly on your upper secondary grades.
The university may have other requirements
Universities provide an informational webpage for each course and programme they offer. Visit the university's website to find out if there's other documentation you need to submit. This could be a CV, motivation letter, references, etc.
You can find a link to the university's course/programme page at the application section of your account here at Universityadmissions.se.
If the university hasn't asked for any additional documentation, be sure not to submit them anyway. Documents that haven't been requested won't be considered and will delay the processing of your application.
All the specifics at your country of study
We've provided information pages with instructions based on where applicants have studied. After finding out if the university has any special requirements, the next step is to go to your country of study page. There, you can:
find out what previous studies meet the general entry requirements
how you can meet the English requirement
any special instructions for your country
Career and further studies
Resi­dence permit for looking for work after studies
If you have a residence permit for studies in higher education in Sweden and have completed your studies you can get a residence permit to seek employment or explore the possibilities of starting your own business here.
Requi­re­ments for obtai­ning a resi­dence permit
To obtain a residence permit after you have completed your studies
you must submit your application before your current permit expires
you must have a passport that is valid throughout your stay in Sweden (if your passport is about to expire you need to extend it since you cannot be granted a permit for a time period that exceeds the validity of your passport)
you must have completed a higher education programme that

has lasted for at least

two semesters – that means that you must have passed all of your courses
your last residence permit must have been a residence permit for higher education in Sweden. You can also have had a residence permit for mobility studies issued by another EU country where at least two semesters of the educational programme took place in Sweden
you must be planning to seek employment or explore the possibilities of starting your own business
you must be able to support yourself during the time for which you are applying for a residence permit
you must have, or have applied for, a comprehensive healthcare insurance policy that is valid for healthcare in Sweden.
Visa requirements
Requi­re­ments for resi­dence permits
For a permit, you must
have a valid passport
have been admitted to full-time studies in a programme or courses that require your presence in higher education (read more about studies in Sweden
be able to support yourself during the time for which you are applying for a residence permit
have paid a possible tuition fee before you send in the application
have, or have applied for, a comprehensive health insurance policy.
The living expense requirement for you as an applicant in 2020 is at least SEK 8,514 per month. For applications received by the Swedish Migration Agency on or after 1 January 2021, the living expense requirement is at least SEK 8,568 per month.
You must show that you have secured your financial support for the time for which you are applying for a residence permit. This means that you must show that you have money available through bank assets, stipends or the like, such as student finance from your home country.
If you are to support yourself with bank assets, you must submit your application no earlier than three months before the date from which you apply for a residence permit. This is so that you will be able to show that you can support yourself in close connection with the beginning of the period of study and so that your documents will not have time to become to old. This does not apply if you will receive continuous income, such as a stipend or scholarship.
Your own bank assets are money in an account that belongs to you and from which only you and, if any, your spouse can withdraw money. If you are under the age of 18, your guardians' accounts may also apply as a basis for your living expense support. Credit, funds or shares are not counted as your own bank assets.
If you refer to your own bank assets in Iranian rials (IRR), the Swedish Migration Agency uses the same exchange rate as the Ministry for Foreign Affairs uses in visa matters.
Fees for residence permits for studies
If you will receive a stipend or the like, you must send a recently issued document in your name with information on the monthly amount or total amount. It shall also be clear from the document what time you will receive funds disbursed and how much of the money will be available for your living expenses.
If you can show that you receive free housing and/or food through the higher education organiser or an organisation that works for international exchange, the amount per month can be reduced. For applications that have been received by the Swedish Migration Agency in 2020, the monthly amount is reduced by SEK 1,655.50 per month for free food and SEK 1,655.50 per month for free housing. For applications received on or after 1 January 2021, the monthly amount is reduced by SEK 1,666 per month for free food and SEK 1,666 per month for free housing.
 

Example of the maintenance requirement

| Permit validity period | You must have at least | Your husband, wife or cohabiting partner must have at least | Support requirement per child |
| --- | --- | --- | --- |
| 6 months | SEK 51,408 kronor (6 x SEK 8,568) | SEK 21,420 (6 x SEK 3,570) | SEK 12,852 (6 x SEK 2,142) |
| 12 months | SEK 102,816 (12 x SEK 8,568) | SEK 42,840 (12 x SEK 3,570) | SEK 25,704 (12 x SEK 2,142) |
| 13 months | SEK 111,384 (13 x SEK 8,568) | SEK 46,410 (13 x SEK 3,570) | SEK 27,846 (13 x 2,142) |
Practical matters like Accomodation and part time job
It's hard to find a part-time job – but not impossible.
Can I work alongside my studies? 🤔 We know this is an important question for many of you. Especially since the cost of living in Sweden is, well, kinda high. But, erm, you might not like our answer. It's not easy to find a part-time job here. And let's be honest – it's pretty unlikely you'll earn enough to cover all your expenses with one either. 
Your studies are your top priority.
You can technically work as much as you like if you do find a part-time job. 👍 We don't have any restrictions on that, not like other countries. But remember. You're moving to Sweden to study. And going to class, working on assignments, passing your courses – that'll be your focus.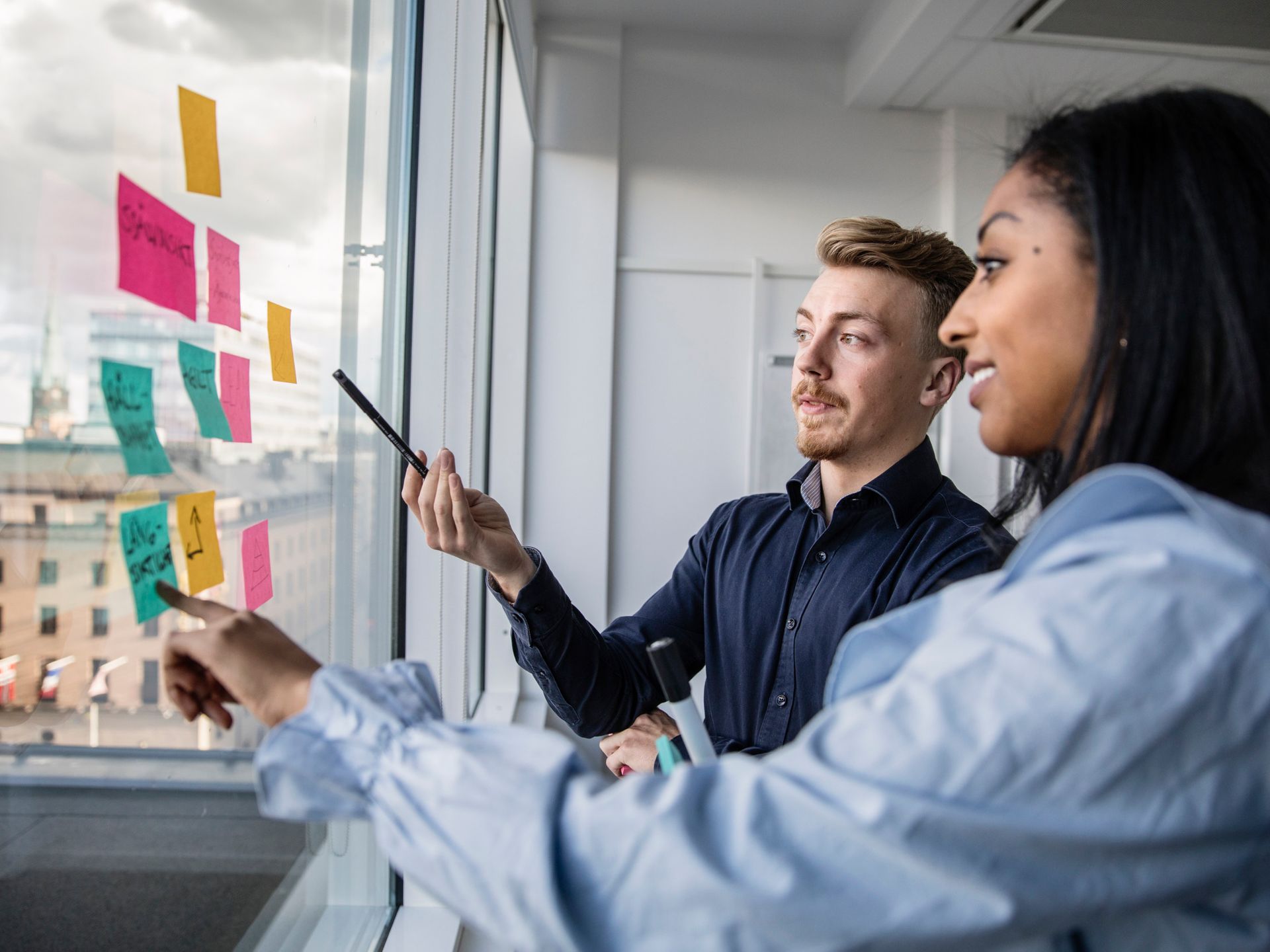 An internship isn't just about the work. It's also about you. And about learning how you can become better in what you do.

Photo: Lieselotte van der Meijs/imagebank.sweden.se
Do an internship and get a taste of what Swedish working culture is like.
Maybe you'll have an internship as part of your degree. Or maybe you want to build your network in Sweden, get some proper real-world work experience, or practice the skills and theories you've picked up in the classroom.
So what to expect? You won't be getting the coffees, that's for sure. 
☕
We promise. You'll be doing real, meaningful work right from the start. And the best part? You'll be trusted to manage your own time. No one standing behind you, breathing down your back, checking that you've got this or that done. Nope, that's not how we roll. 
Work your butt off, bring new ideas, take every opportunity that comes along. 
👏🏾
You never know, go the extra mile and you might land that job offer by the time you're done. And even if you don't, you'll have learnt something. Worked on some cool projects. And met people in the industry you want to work in. And that really is invaluable. ✨
Our services charges
Our services charges is 700 EURO.
After visa and formalities
The candidate needs to provide us photocopies of his/her visa sticker and residence permit letter.
They need to come to our office for a photo session, which we will use in our facebook page or any other media as our advertisement.
The candidate should write a review on our Facebook page about our services.
The candidate must fly within 30 days before his/her class start date. They must not fly before 1 month as per the rules.
In the COVID – 19 situations the student should carry a negative test report which should not be over 72 hours.
In the COVID – 19 situations the student will have to go through a COVID test within 48 hours after reaching Denmark.
After reaching Denmark the student should contact his/her respective university and inform them about the arrival.